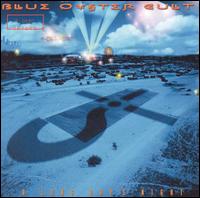 Stairway to the Stars
Burnin' for You
Od'd on Life Itself
Dance on Stilts
Buck's Boogie
Quicklime Girl
Harvest Moon
Astronomy
Cities on Flame With Rock & Roll
Perfect Water
Lips in the Hills
Godzilla
(Don't Fear) The Reaper

Release Notes: Released in September 2002 by Sanctuary. Produced by Steve Schenck.
Instruments: Eric Bloom (vocals, guitar, keyboards), Buck Dharma (vocals, guitar), Allen Lanier (guitar, keyboards), Danny Miranda (bass, vocals), Bobby Rondinelli (drums, percussion).
Additional Notes: Recorded on the Summer Solstice, 2002, at the Navy Pier/Skyline Stage, Chicago, Illinois. A companion DVD, A Long Day's Night (DVD), was released the following month. The DVD contained 6 additional songs, band and fan interviews and 'behind the scenes' footage.
References:
A Long Day's Night at allmusic.com
A Long Day's Night at amazon.com
Community content is available under
CC-BY-SA
unless otherwise noted.