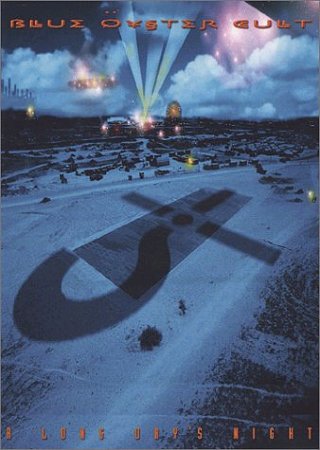 Stairway to the Stars
Burnin' for You
O.D.'d on Life Itself
E.T.I. (Extra Terrestrial Intelligence)
Dance on Stilts
Harvester of Eyes
Buck's Boogie
Quicklime Girl
Flaming Telepaths
Harvest Moon
Last Days of May
Cities on Flame
M.E. 262
Perfect Water
Lips in the Hills
Godzilla
Don't Fear The Reaper
Dominance and Submission
The Red and the Black

Release Notes: Released in October 2002 by Sanctuary. Produced by Steve Schenck.
Instruments: Eric Bloom (vocals, guitar, keyboards), Buck Dharma (vocals, guitar), Allen Lanier (guitar, keyboards), Danny Miranda (bass, vocals), Bobby Rondinelli (drums, percussion).
Additional Notes: Recorded on the Summer Solstice, 2002, at the Navy Pier/Skyline Stage, Chicago, Illinois. A companion CD, A Long Day's Night, was released the previous month. The DVD contains 6 songs which were excluded from the album, band and fan interviews and 'behind the scenes' footage.
References:
A Long Day's Night at allmusic.com
A Long Day's Night at amazon.com
Community content is available under
CC-BY-SA
unless otherwise noted.