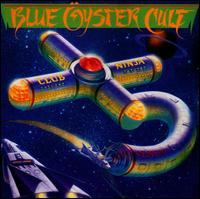 White Flags -- (Leggatt Bros.)
Dancin' In The Ruins -- (L. Gottlieb, J. Scanlon)
Make Rock Not War -- (B. Halligan Jr.)
Perfect Water -- (D. Roeser, J. Carroll)
Spy In The House Of The Night -- (D. Roeser, R. Meltzer)
Beat 'Em Up -- (B. Halligan Jr.)
When The War Comes -- (J. Bouchard, S. Pearlman)
Shadow Warrior -- (E. Bloom, D. Roeser, Eric Van Lustbader)
Madness To The Method -- (D. Roeser, D. Trismen)
Release Notes: There were three different releases by Columbia of this album, each with a slightly different mix. A somewhat rushed mix was released in England in November of 1985 (this release is believed to be available only on LP and cassette, but not on CD). Another mix was released in Holland in December of 1995. The third mix (released in the U.S. and elsewhere), was released in January 1986. EPIC records released this album as a "Collector's Choice" edition in 1992 using the Holland mix. Produced by Sandy Pearlman.
Instruments: Eric Bloom (vocals, guitar), Joe Bouchard (bass, vocals, guitar), Donald "Buck Dharma" Roeser (vocals, guitars, keyboards), Jimmy Wilcox (background vocals, percussion), Tommy Zvoncheck (synthesizers, piano, organ), Thommy Price (drums), Phil Grande (additional guitars), Kenny Aaronson (additional bass).
Additional Notes: This is the first CD recorded by BOC (as opposed to previous releases, where the CD was later cut from the LP masters). The spoken words at the start of "When the War Comes" ("When the bones of our oppressors... All hail the revolution") are done by New York DJ Howard Stern (who's mother is presumably related to Eric Bloom's wife's mother). The European releases of this album do not contain these spoken words. In addition, on the first (England) mix, "White Flags" does not end via fade-out. This version is available on some single versions of this song. There are other various discrepancies between the album and single releases due to the various mixes (there are noticeable variations in "White Flags", "Make Rock Not War", "Spy In The House Of The Night", "When The War Comes", "The Shadow Warrior", and "Madness To The Method"). The song "White Flags" was originally recorded on Hugh and Gordon Leggatt's 1982 album, *Illuminations*. According to "Morning Final #2", the song "Shadow Warrior" was originally a song called "I'm A Rebel" (with different lyrics), and written (but not used) for the 1984 film, *Teachers*. This album was discontinued in the U.S., although it was re-released in March of 1997 on Koch records, with new liner notes.
References:
Community content is available under
CC-BY-SA
unless otherwise noted.