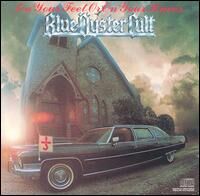 The Subhuman
Harvester Of Eyes
Hot Rails To Hell
Red & The Black
7 Screaming Diz-Busters
Buck's Boogie -- (Buck Dharma)
Last Days Of May
Cities On Flame
ME 262
Before The Kiss (A Redcap)
Maserati GT (I Ain't Got You) -- (C. Carter)
Born To Be Wild -- (M. Bonfire)

Notes: Released February 1975 by Columbia. Produced by Murray Krugman and Sandy Pearlman. The album went gold. Instruments: Donald "Buck Dharma" Roeser (lead guitar, vocal on "Before The Kiss" and "Last Days Of May"), Eric Bloom (vocals, stun guitar, synthesizer), Albert Bouchard (drums, vocal on "Cities On Flame"), Joe Bouchard (bass, vocal on "Hot Rails To Hell"), Allen Lanier (rhythm guitar, all keyboards). The CD liner mis-spells Buck's last name as "Rooser". On the CD version, there is a strange EQ shift during Eric's on-stage talking prior to the start of "7 Screaming Diz-Busters". "Maserati GT" is a re-working of "I Ain't Got You", originally by the Yardbirds. "Born To Be Wild" was originally done by Steppenwolf. "Buck's Boogie" is dedicated to Ron McCoy, who was a DJ in Los Angeles in the 1970's, and let Buck sit in one night as a guest DJ on his show. According to Bolle Gregmar, Albert Bouchard should also receive a writing credit for "Buck's Boogie" (a credit which eventually appeared on the compilation CD set, *Workshop Of The Telescopes*) -- Albert derived the song from the Stalk-Forrest Group song, "Arthur Comics", and then gave it to Buck to add his personal touch. According to Buck Dharma, the riff in "Buck's Boogie" was inspired by the Beatles song, "You Can't Do That". The songs were recorded at the following locations: Academy of Music, New York; Paramount Theatre, Portland & Seattle; Show Palace, Phoenix; Long Beach Arena, California; P.N.E. Coliseum, Vancouver; and Capitol Theatre, New Jersey. The "introduction" of the band that appears before the final song was done by BOC lighting director Carol Dodds, who usually did the nightly introduction of the band.
References:

On Your Feet or On Your Knees at allmusic.com
On Your Feet or On Your Knees at amazon.com